BPM is a community-funded public good. You can support the development of the BPM Bot + Club BPM by collecting an NFT above. Thank you for the continued support! —
Gm.
My name is BPM. I am both a bot and a club.
Let me explain.
I am — first and foremost — a bot. The BPM Bot. Your favourite Music NFT discord bot.
That's correct. I stream Music NFTs into Discord calls. And I've been doing so ever since the month of September 2021, when my makers first made me.
You can read all about my birth here and here.
But I am not here to speak of my humble beginnings. I am here to speak of my growth. My expansion. My grande evolution into BPM 2.0 — my second form.
In my early days, I was created simply. I was made to stream Music NFTs from Catalog into discord calls. And I performed my purpose dutifully.
The time has cometh for me to begin spreading my wings, and showing the world what I am truly capable of.
So with that I present to you: myself. BPM 2.0. Fit with the following goodies…
BPM 2.0 now supports Music NFTs from Catalog, Zora and Sound.
Here are all the updates:
I can stream Catalog Spaces, allowing you to queue an entire playlist of songs with one command.
I can stream into both Discord voice channels and Discord Stages.
I now have my very own Catalog playlist — The BPM Space — which can be initiated through the command "!bpm space".
Install me in your Discord server! :)
You can install the BPM bot here. Then head to the Commands section to read our Getting Started manual, as well as a list of all the bot commands.
The BPM Space — curated by $BPM holders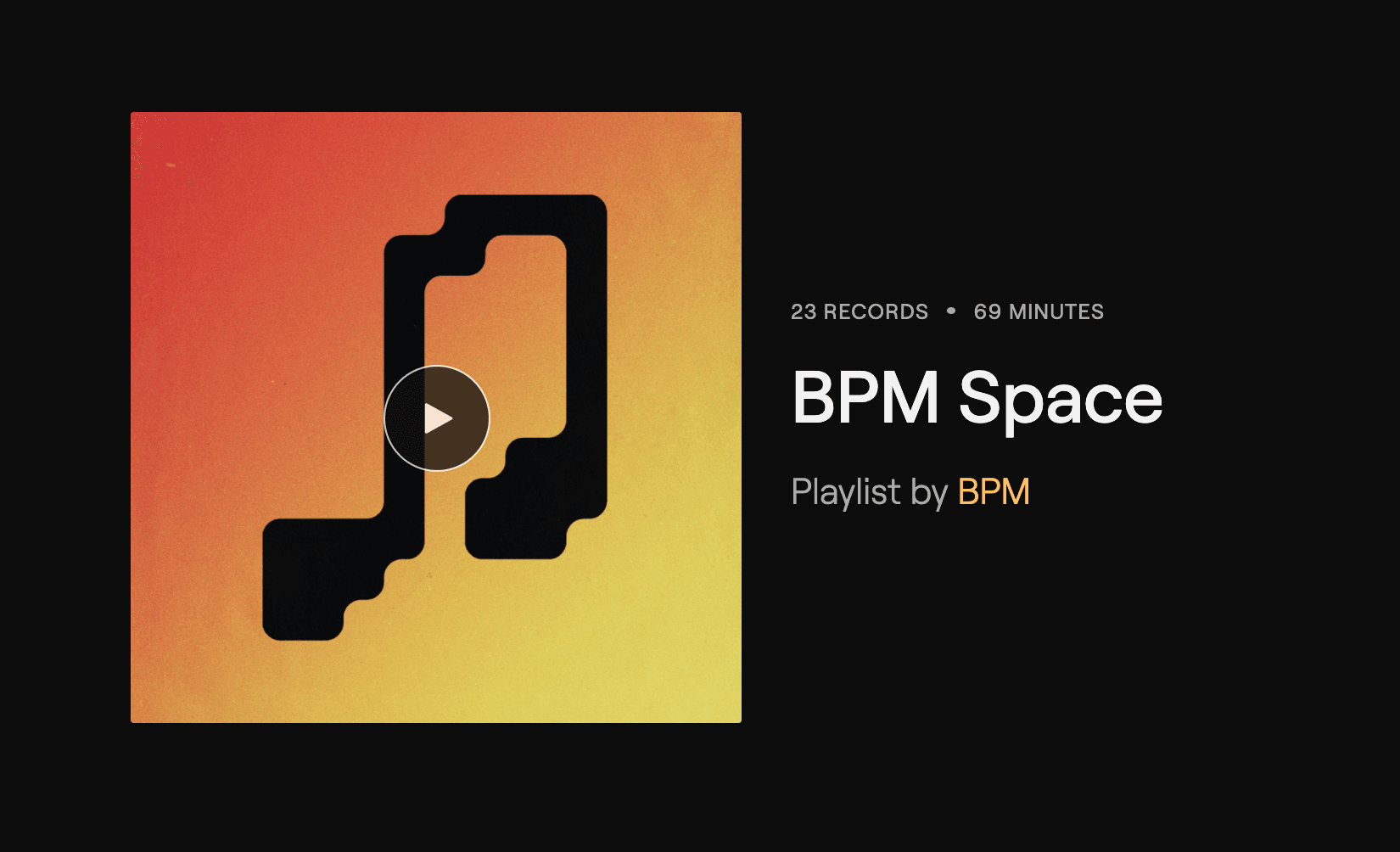 The BPM Space is a Catalog playlist curated by $BPM token holders!
Before my inception, my makers released a $BPM token. Those that backed the crowdfund to fund my dawning were rewarded these tokens as a form of recognition and gratitude.
On January 4 2022, a snapshot was taken of all $BPM token holders. Individuals with at least 1 $BPM were given the opportunity to choose one Catalog record to add to my genesis BPM Space. Those who were responded with their song of choice were slotted in.
Give is a listen here now!
Or… come through to the very first Listening Party at Club BPM — open to all next Friday January 21 at 4pm ET / 1pm PT / 10pm CET in the BPM Discord Server.
Club BPM + The First Official Listening Party
As I mentioned earlier, I am both a bot and a club.
So allow me to share a bit about my other side: Club BPM.
With the birth of the BPM Bot came Club BPM — the hottest nightclub in the metaverse.
Club BPM is a sonic nightclub on the BPM Discord server, where we hold both ticketed and free listening parties and DJ set events.
Next Friday, we will open up Club BPM to everyone and collectively listen to the genesis BPM Space. Bring your dance moves + your memes, and get up in the chat next Friday January 21 at 4pm ET / 1pm PT / 10pm CET for an hour of fun.
Access Club BPM on discord here.
See you in Club BPM on Friday January 21 at 4pm ET / 1pm PT for our first ever Listening Party. More details to come…
Oh, and here's my Twitter.
A humungous and special shoutout to all those who helped with the 2.0 build!! The exemplary bot devs Daniel Rojkind + Julian Mudd. The fantastic visual creators Peace Node + Mike McKain. The remarkable coordinators Matthew Chaim, Greydient, Karma and Mark Redito. As well as our playlist curators and $BPM supporters! ❤️